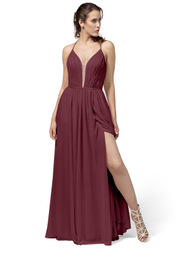 Azazie Alina
Evening Dress
FABRIC: Mesh
$119
product info

Alina is a cute and trendy style with a plunging deep V-neckline and strappy back. The dress is heavily gathered and the waist is accentuated with a thin belt. This style features thin straps that reach to the back and create an intricate crisscross pattern. The back also has an optional panel to place behind the straps, giving you more coverage there. Ask a question
Jessie Kemmerling
Reviewed On:
2019-06-30 16:13:31
Color:
Dark Navy
Body Type:
Straight
Size Ordered:
Custom Size
Got custom size, so it fit perfectly! No alterations needed. Was great dancing in all night and back details are gorgeous, only not is that the fabric is a little shinier than other bridesmaids dresses on this site for weddings with various styles
Jess
Reviewed On:
2019-04-01 07:06:46
I ordered the sample and the dress was good quality. The mesh area is not as revealing as I had originally thought, which was a plus. However the boob area folds and doesn't look right. Other than that liked the dress, but not the one for me.
ashleylwill
Reviewed On:
2019-03-13 02:35:16
Body Type:
Straight
Size Ordered:
Custom size
I think this dress is gorgeous but I do have a few issues with it. Pros: I did the custom fitting, and it fit in length which I usually have a hard time with. It was loose in the bust but the adjustable straps makes it easy to tighten..which leads to my cons: I had to tighten quite a bit to fit me. when tightened the stitching/ pleating on the chest is super noticeable. Even when not super tight, it was still obvious. The straps are also super thin and I felt I was gonna break them. Before (and after) I tightened it, the straps were irritating my collarbone due to the fact they are so thin and the dress is heavier. We'll see how it holds up while wearing it all day :/
MJMoon
Reviewed On:
2018-09-28 08:15:31
Body Type:
Straight
Size Ordered:
A4
This is a gorgeous dress, but it does seem to run big. Pros: High Quality Fabric with Stretch, formed breast cups, Adjustable back tie/straps Cons: Stitching across the breast fabric pleating is super noticeable, straps are so thin (feels risky to pull tight enough to hold this heavy dress up), runs big.
mstackhouseernst
Reviewed On:
2019-10-30 06:20:00
Color:
Peacock
Body Type:
Pear
Size Ordered:
A4
Beautiful. Actually love the fabric too, only issue is that it has a lot of static cling, so lint-rolling (excessively) is a must.
warden.alana
Reviewed On:
2019-07-09 15:16:24
Color:
Dusty Rose
Body Type:
Pear
Size Ordered:
A0
vac1994
Reviewed On:
2019-05-25 18:33:01
Color:
Dusty Sage
Body Type:
Apple
Size Ordered:
A8
I got the dress and was SO pleased. There is just the perfect amount of ribbing (very minimum) and padding that it's actually possible to go braless in this dress, if you wanted to! The ability to tighten everything from the back helps a ton, too. The only thing that wasn't as expected was the length? I am 5'0" and although the length measurement was only a few inches off (I thought I could bridge the gap with heels), there's WAY too much extra fabric at the bottom for me. My main concern when ordering was how booby it was going to be, and the mesh in between the boob area is like just the right amount. It actually gave me full, modest coverage....the mesh and leg slit just make you feel a teensy bit less matronly (sometimes hard to avoid with bridesmaids dresses). Will need to try on again soon and do another review with my photos because others photos definitely helped me make my decision with this dress. I am excited to wear it.
SARAH21HEI
Reviewed On:
2019-05-13 10:25:17
Body Type:
Pear
Runs very big- my measurements put me at a size 12 and the 8 fit with substantial room. The gathering/stitching on the bodice looked really sloppy in the light color I tried on, this would probably only work on a really dark shade.
michellepetcu12
Reviewed On:
2019-04-10 06:32:26
Color:
Dusty Blue
Size Ordered:
A16
This dress is so beautiful! I love how flattering it looks. I went up a dress size because I know how some of these formal dresses can fit....however, it was way to big! I had to go take it for alterations, but other than that I really do like it.
Stediaz02
Reviewed On:
2019-03-14 05:24:25
Body Type:
Hourglass
Size Ordered:
A6
The dress is beautiful, great quality. I ordered a size 6 and 8 sample size based on the measurements & both of them were HUGE on me, not even adjustable with the strips. I can place my entire arm to my side. Considering ordering a 2 and 4 but almost sure the 4 will still be a little big on me. Definitely size down 2 sizes for this one.
marissanbales
Reviewed On:
2018-11-02 05:04:53
Color:
Cabernet
Size Ordered:
A0
The fit was very true to size. Great quality material!
Alejandra
Reviewed On:
2018-10-31 12:31:09
Really loved the dress! I ordered it as a sample dress originally before ordering the official one. I think the fit is very flattering and I really liked how the back has an optional triangle shaped panel which allows you to either wear the back of the dress more backless where the straps are, or with more coverage. Also comes with formed breast cups which is nice because you do not have to wear a bra with it. The material was also pretty high quality and stretchy which was great! I would say the gown is a little heavier than I imagined for such thin straps. Overall, beautiful dress!