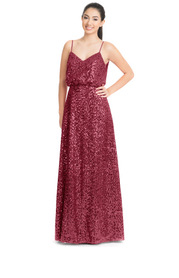 Azazie Corrie
Evening Dress
FABRIC: Sequined
$99
product info

This stunning sequin gown with adjustable chiffon straps and cowl back detail is sure to have your leading ladies beaming the whole night through. Available in full size range (A0-A30) and custom sizing. Ask a question
Unknown
Reviewed On:
2019-03-02 11:18:50
Color:
Burgundy
Size Ordered:
Custom size
LOVE this dress! Fit a little bigger when u do custom but rather have it bigger than smaller and looks just like the picture! Thank you azazie!
michelle.dematteo
Reviewed On:
2019-01-25 09:03:38
Color:
Pearl Pink
Size Ordered:
A10
I fit measurements for a regular size exactly and it fits great. My concern is how many sequins fell off in the 5 minutes I had it on to try it on! I will be very curious to see how many are left at the end of the night after wearing it for a wedding. Was hoping I'd get to wear it again...but I am highly concerned about the condition it will be at the end of the night. Also, because of this, there really would be no way to clean this other than spot treating. Seems good quality other than that. Can't beat the pricing! I was able to get it on sale for Cyber Monday as well.
mds0210
Reviewed On:
2018-11-15 17:11:35
Didn't give my bridesmaids the best shape. Beautiful dress. Good quality.
mds0210
Reviewed On:
2018-11-15 17:05:57
Body Type:
Hourglass
This dress fits perfectly and true to size. The only thing is that if you or your bridesmaids have a large chest and hip area I feel that this dress is not slimming.
K
Reviewed On:
2018-11-06 09:08:26
Body Type:
Hourglass
Thank goodness I tried this on before ordering. If you're petite, this is not the dress for you. It looks gorgeous on the model but will swallow you up if you're petite.
Princess Bride
Reviewed On:
2018-07-09 13:47:59
I ordered the swatch which came out pearl pink and pretty like the image shown; however, the dresses I received were rose gold. I'm pretty upset thinking about it now when I look at the photos of the gal on the website because I really do want the pearl pink look rather than the rose gold..... but I ordered half custom sized dresses and some regular sized. Most came out larger around the bust area for the bridesmaids.
Marissa_ann77
Reviewed On:
2018-06-11 15:35:01
Body Type:
Hourglass
Size Ordered:
A8
This dress is amazing! It's so sparkly the quality is fantastic:) this dress is super flattering on many body types. The sample dress came super fast within like 4 days and it was in excellent condition! I would highly recommend this website to anyone:) In the picture my cousin is wearing a size 8 and I think she's usually around a 6 in street size.
Amber Cooper
Reviewed On:
2018-04-12 10:04:20
Color:
Burgundy
Size Ordered:
A6
The dress is really pretty, just like the photo. Shipped quickly, well packaged. I tried it on, and it's REALLY snug in the chest area. I was able to get it zipped, but I kinda have armpit boobs. I should have ordered 2 sizes, but I really thought this dress would fit based on the sizing chart. I'd definitely recommend sizing up. I did notice some fallen sequins after I tried it on, so I hope that won't be an issue during the wedding. Other than that, it's a lovely dress and am looking forward to wearing it