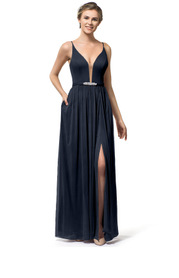 Azazie Leah
Evening Dress
FABRIC: Mesh
$109
product info

The Leah dress is fun and sexy, with its deep V-neckline, you will look like a goddess. The beaded detail on the belt adds some sparkle to this lovely style. With the side slit and a-line skirt you will have no problem dancing and enjoying the special day. Ask a question
alicia.lundgren
Reviewed On:
2019-02-01 15:41:19
Color:
Cabernet
Body Type:
Hourglass
Size Ordered:
A10
Not for curvier ladies. I am only 5'3" and I ordered size A10 which I knew would have to be hemmed, however the entire bodice needed to be redone. The original straps were so thin that the entire front of the bodice was folded in half and unable to hold me in. Even after my seamstress redid the straps completely and made them bigger I still had this issue. There is no boning or support in the cleavage area at all, so if you're a D or larger this will be extremely uncomfortable. I should have opted for something with more coverage but I really loved this design. Be prepared to get it redone or have the straps digging and pulling at you all night!
sam.speciale
Reviewed On:
2019-01-29 09:11:20
Body Type:
Hourglass
love love love this dress! The material itself is so soft and stretchy and the size 2 fit absolutely perfect on me. No need to wear a bra with this and the pockets are incredible. I tested out putting my phone in and you can't notice there is anything in there. I highly recommend this dress for anyone and all body builds, it will hug you exactly where you want it! Also love that you can remove the band to give a more simpler look!
saraheburtenshaw
Reviewed On:
2018-11-25 13:58:34
Body Type:
Straight
I LOVE this dress. I wore it for my brother's wedding and got endless compliments on it. I'm 5'10", 145 lb and got a size 4, it fits perfectly. Being tall I always worry about dresses being too short, but it was long enough. It came faster than expected, great quality. Couldn't be happier with my purchase.
Samanthajlfava
Reviewed On:
2018-11-11 10:07:53
Body Type:
Straight
Size Ordered:
A6
Loved this dress, very flattering to the mid section, OBSESSED with the pockets, had things like lipstick and even my phone and you couldn't tell! The cups were perfect so I didn't need to wear a bra which was very helpful. I was able to move very easily in it which was great. We did end up taking out the mesh and sewing it together to make it a more modest and traditional look and I have to say I love it SO much !
dashundrasanders
Reviewed On:
2018-10-16 08:23:06
Body Type:
Hourglass
Size Ordered:
A6
It's a perfect fit. I'm super excited about wearing this dress for my sissy's wedding.
yanniface
Reviewed On:
2018-08-28 18:43:47
Color:
Ivory
Size Ordered:
Custom size
I loved this dress. I changed into this for my reception and was so much cooler. Perfect fit, flattering and light weight. I will order more dresses from Azazie.
Karli
Reviewed On:
2019-02-04 06:17:58
Body Type:
Straight
Size Ordered:
A10
This was a beautiful dress. Size was too big for me so I had to return and get an 8. Material was very nice and so was the color. Would recommend this dress. Better material than other websites.
Azazie Stylist
Reviewed On:
2018-08-14 12:29:08
Size Ordered:
A20
I liked that the skirt was full, I loved that it has pockets, and a side slip! The skirt helped to hide my tummy and thus was more flattering. The straps were not very comfortable but may just have needed some adjustment. I was not a fan of the color of the sheer part on the bodice and I did not like the cups as I do not feel they are accommodating for a bust as large as mine.
isakovicd1
Reviewed On:
2018-08-08 09:54:06
Body Type:
Hourglass
Size Ordered:
A6
Beautiful dress I got it today and it feels amazing!! I have an athletic build and I'm a 36C so it's hard for me to find a dress I actually feel good in. The only this runs alittle large so I'm going to have to take it in with is fine. It is streatchy which I love because it's easier to move in it. I didn't know they were pockets in the dress which made it even better. The only think I don't like is that the belt is stitched to the dress on the side and it isn't even to the front of the dress so I'm going to have to put fashion tape and center it. I'm so happy I picked this dress out! Wedding pictures to follow!
paigerhoades
Reviewed On:
2018-08-07 14:49:18
Color:
Dusty Rose
Size Ordered:
A10
High quality dress! Very happy with this.