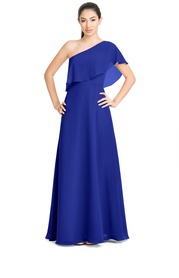 Azazie Lizzy
Evening Dress
FABRIC: Chiffon
$99
product info

Fall in love with this chic, floor length, one shoulder ruffle gown. Lizzy will have you feeling and looking like a million bucks. Available in full size range (A0-A30) and custom sizing. Ask a question
merissa.pemberton
Reviewed On:
2018-09-26 05:30:26
Body Type:
Hourglass
This dress did not look as put together on me as it did in the photo online. The way the top lay made me look really frumpy and did not show off any of my curves. May be a dress for someone with a different body type than mine. Also the top, sheer layer that lays over your chest arrived extremely wrinkled. Overall, not a fan.
arherzer
Reviewed On:
2018-12-24 14:12:34
Color:
Burgundy
Body Type:
Pear
Size Ordered:
Custom Size
The dress fit almost perfectly. It was still a little too big in the bust. I had to get alterations in that area, which then made the length just right. The part of my order that I wasn't too happy with was the bag that the dress came in. I can't keep my dress in this bag to transport since it is already a hassle to get the dress in and out of the bag. (You might be thinking, how often are you taking it out? Initial try-on, alterations, alterations secondary try-on for last adjustments if needed, and then 1-2 more times for photos and the actual wedding.) The bag the sample dresses came in were a lot nicer and even had a zipper. Since this is a one-shoulder dress, it's hard to adjust the dress back onto the hanger when the dress is already unaccessible through a zipper. I'm happy with the dress for sure, though. If it had pockets, it would be perfect.
Gaby De Los Santos
Reviewed On:
2018-10-20 13:07:45
Color:
Coral
Size Ordered:
A4
I'm honestly not a fancy dresser; I bought this cause my bff made me one of her bridesmaids. This dress amazed me. It fit me perfectly, the packaging was very well done and the materials are of really good quality. Surprisingly, I'm now very excited to wear it to the wedding.
egiordano21
Reviewed On:
2018-09-19 21:46:28
Color:
Royal Blue
Size Ordered:
Custom Size
Have to say I was a little nervous doing the custom size, given you can't return, but I was so happy with the result! I am usually a US size 6, however it came back a little to small in the bust area. This is what got me to do the custom size, given I loved the style and the color was perfect and what the Bride was looking for. Also, I am only 5'1 so no matter what I would need to tailor the length. The custom size allowed me to put in my height measurements and add extra length depending on the heel size. No need to spend more money getting it tailored. Definitely recommend!
anon
Reviewed On:
2018-08-06 12:21:16
Body Type:
Straight
The angle of the ruffle made me look a bit short and frumpy.
hallie.servpro
Reviewed On:
2018-06-13 12:11:21
Color:
Pearl Pink
Size Ordered:
A12
Absolutely love this dress! It fits exactly how it says it will fit and it is so beautiful. This is my 5th time as a bridesmaid and it is definitely my favorite dress so far!
hunling.yin
Reviewed On:
2018-06-03 14:27:39
Color:
Dusty Sage
Body Type:
Straight
Size Ordered:
A8
I didnt have chance to try it, but i gave 5 stars based on the customer service they provided. They understood my case and responded my email promptly. For the reture process, they provided me a clear instruction to do so. Thank you Azazie for the great service, definitely will recommend anyone.
Caroline Bartley
Reviewed On:
2018-05-29 09:43:29
Color:
Dusty Blue
Size Ordered:
Custom Size
The dress came earlier than expected and it fits perfectly! I ordered the custom size and that was definitely the way to go!
francesarlyn
Reviewed On:
2018-05-24 13:32:04
Color:
Frost
Body Type:
Hourglass
Size Ordered:
Custom Size
Wow wow wow! 5 stars for the custom size order. While I'm short in stature, I am also pretty thick bodied (large chest, round butt, and thick legs), so I was a little worried how the dress would come out with the custom size order. IT WAS PERFECT. I hadn't even bought heels for dress yet but the "extra length" was also a great option -I bought the shoes today and tuns out I don't need any extra hemming! On top of the accuracy of the fit and length, I loved that the dress felt high quality (the material doesn't feel thin or cheap). Lastly, because this is a one shoulder dress, I was also concerned about the bra I'd need to purchase, but no need for that since there are cups in the dress! And they secure my chest perfectly! So, so impressed. Keeping in mind that this is one of the lower cost dresses ($99), I was so impressed & can only imagine how much higher quality comes with the other dresses. 100% a win in my book. Amazing job, Azazie!
SARAH.D.HINOJOSA
Reviewed On:
2018-05-01 07:44:14
Color:
Blushing Pink
Body Type:
Pear
Size Ordered:
A16
I'm a pear shape so I got this dress to fit my hips. The top was left a little big, but it would be the same with any bridesmaid dress if I would have ordered anywhere. Great A Line though.